It's a well-known fact that women would love to look thinner. In our egoistic world, this is among the most important matters. Slimmer thighs, more toned arms, and a slimmer waist are part of the beauty ideal picture. How to achieve the perfect legs and make the rest of your body look sleeker?
I've seen far too many women struggling with this simple yet complicated question. Even my mom does it from time to time. I think she looks good and healthy. But Asians and their obsessions, you know.
While some people use the word "plump" to describe themselves, I'd only use it to describe some kissable pair of lips. Still, the struggle is real.
If you have not thought about this yet, why don't you give it some thought now? So, what can you wear to look thinner? Even for just a little bit.
Black is the new norm
If you're looking for a way to make your outfit pop, try wearing it in black. It's an easy way to spruce up your outfit and look chic without doing much.
Black is a neutral color, which means it goes with everything. It can be used as an accent color or as the main focus of your outfit, depending on how you want to wear it.
You don't have to go all emo about it either! Pick one or two black items, either the top piece or the bottom one—it doesn't matter as long as you're comfortable with what you're wearing. If you already get your black tank top, try some dark denim instead of wearing your favorite cutoff shorts again. Or if you go light on top, don a black pencil skirt instead of throwing on another pair of jeans (which tends to make people look heavier).
Remember Ciara's song "1, 2 step"? Apply that same rule and stick to 1-2 shades instead of spreading colors all over the spectrum. As it'll only steer the eyes horizontally; so stripes and vertical prints will give the opposite effect. And that's how to look thinner and taller!
Wanna be on top?
We know you'd like to wear body-hugging tops, but it's not worth the risk of looking like a sausage in a casing. You already have curves, so let them do their thing!
Here's the deal: loose-fitting tops are your friends, especially thin materials like cotton, wool, and silk. Avoid heavy materials like leather, suede, velvet, or corduroy; anything with fringe or crowded patterns is no bueno.
But wait! What about a leather jacket!? If you must go for a leather jacket, opt for the cropped version—it's less likely to make you look bigger than other styles of leather jackets (like bomber jackets).
If your top is too loose or too long, it will make you look bigger than you really are because it makes your body look heavier than it really is.

Baggy tops offer false security checks. They make you look bigger. Do you know why? Because you'd only use baggy items if you can't wear any body-fitted clothes. Since they do the exact opposite—they make the body look bigger—trash them!
I have a secret for you. A big, fat tip that will change your life forever.
How to look thinner? Tuck in one side of your t-shirt. Yup, you'll look leaner because there's literally space underneath for you to do so! Cardigans are your enemies because they hug your body and show off all that we try to avoid.
The secret to looking thinner: blazers
Blazers are my favorite kind of clothing.
No matter what the occasion is, or what the weather is like, you can always pull one off and look great. I love seeing my mom in blazers—especially the dark navy and black/grey ones. She always looks so put together, and I think it's because she wears them so often. Hehe.
It's easy to feel good about yourself when you're wearing a blazer! Blazers are jackets, but they give an impression that you're thinner than you actually are—probably because they hug your body shape without being too tight or too wide. You wear them open-airy instead of buttoning up.
My mom always tells me that if you want to look thin and fit, just wear a blazer! They're perfect if you have a tummy or any other areas of your body that need some help slimming down. The right-fitting blazer will make your body look better than ever before—and it'll help keep you warm in winter weather as well!
Belt or no belt?
I know what you're thinking: "Doesn't the right belt make me look thinner?"
Well, it does, but it doesn't. At least not in the way you probably think.
The right belt isn't going to magically make your tummy disappear or change the shape of your body. It isn't going to magically make people stop judging you on how much they think they can see of your underwear when you bend over, either (which actually happens a lot more than you'd think).
And frankly? It's not even going to help with that.
But what a good belt will do is make your outfit look cohesive and put together—and that's what matters most if you want people to respect your style choices. A thick, dark leather belt will draw attention away from any tummy bulges and toward the belt itself, which means no one will be looking at whether or not your pants are too tight (or too low-cut) for their liking anymore.
You want to buy a leather belt that's at least 1-1/2 inches wide, but no more than 2 inches wide. A buckle that's 1-inch wide is perfect—any bigger and it will look too big for most people. And remember: solid-color belts are more versatile than patterned ones!
And that's as close as we'll ever get to magic here.
Jeans or trousers?
It's a fact: you can't put on jeans and not feel better about yourself.
Well, maybe not always. But if you're looking for jeans that will make you look amazing, there are two things to keep in mind:
The first is that the fit matters more than anything else—they need to be tailored and straight-cut, so they elongate your legs and make your waist look smaller. Opt for midrise jeans as you don't want to show off your butt cracks and all the tummy bulge with a low-rise pair, while highrise jeans are just plain uncomfy. Or at least that's what my mom told me. Ha.
And second? The color of your jeans matters too!
And when it comes to your tops, things that are a bit below the belly button are yay; the rest is nay.
How to look thinner with bags, heels, and accessories
You're a big gal. You know it, we know it, and the rest of the world knows it too.
But don't get down on yourself! There are ways to make your size work for you—and not against you.
First things first: if you want to look more proportionate, use a medium-sized bag as opposed to a tiny one. A tiny bag will only accentuate your "prominent" appearance by making your body look larger in comparison.
As for heels, we want to make your legs look longer (and therefore thinner), so simple heels, no whips or straps, and none of that crap—nothing that will draw attention to your thighs or calves—are best. Pumps and wedges are your new best friends!
Long, U-shaped accessories steal the spotlight from your thick torso and draw attention away from any flappy arms or belly bulges that might be hanging around. Slip on some bling-bling bangles/cuffs to distract folks from focusing on what you're trying to hide.
Don't be afraid of the bodysuit either! As long as those bodysuits don't compress the shite out of you, they can really help shape up any areas that feel less than ideal about yourself.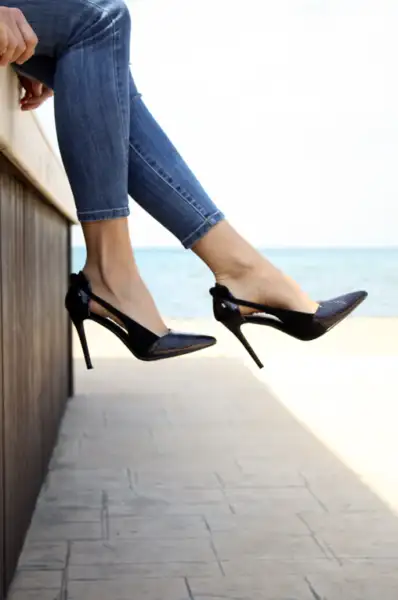 Conclusion
Everyone has a very different approach to how to look thinner. And although these suggestions may bring certain illusions to your reality, we can at least agree that it does better than harm. So why don't you try some of these tips next time you're going on a shopping spree.